Dean's Welcome
Welcome to the Faculty of Graduate Studies at York. Innovation, creativity, excitement, challenge, rigour and excellence — these are the hallmarks of a quality graduate education, and York offers them all in abundance. At the centre of research and scholarly intensity within the University, the Faculty of Graduate Studies and I invite you to be part of a life-changing experience.
At York, we have developed an array of graduate programs that are as impressive in their range as they are in their depth. Whether you wish to pursue a more traditional program of study or explore new interdisciplinary initiatives, York has a complement of graduate programs that will meet your needs and place you at the frontiers of scholarship and career development.
All our programs provide you with an opportunity to take exciting strides in your own intellectual development and to contribute to your chosen field of study. All this is enhanced by York's location in the heart of the Greater Toronto Area's rich social and cultural environment.
Throughout York's Faculties and research centres, there is a special commitment to tailoring graduate programs to meet the challenges and needs of its diverse students. With one of the largest and finest cohorts of graduate students in the country, York's Faculty of Graduate Studies has the resources and ambition to provide the strong administrative and financial support that is necessary to facilitate a first-rate student experience.
It's so important that as you consider coming to York University for Graduate Studies, that you are aware of all the supports and services we have here. And also… by exploring the Graduate Studies Incoming Students page.
Why Grad School?
Graduate school provides crucial skills sought by employers in diverse fields. Skills include: oral and written communication; independent, innovative thinking; public speaking; collaboration; time and project management; qualitative and quantitative analysis; research and synthesis.
Grad school also offers you the opportunity to deepen your knowledge of a specific subject; pursue answers to important research questions that could change your field, your community, or your world; and develop a host of in-demand attributes that will help you succeed inside and outside of the university.
Personal Advantages
The opportunity to immerse yourself in a field, focus on a subject that you really care about, and work toward your professional goals.
The chance to engage with and learn from a community that is as passionate about your field as you are.
The opportunity to foster lasting friendships and professional relationships with your fellow grad students.
The freedom to work independently and be self-directed.
The satisfaction of challenging yourself intellectually.
The enjoyment found in watching yourself develop new skills and abilities.
Career Advantages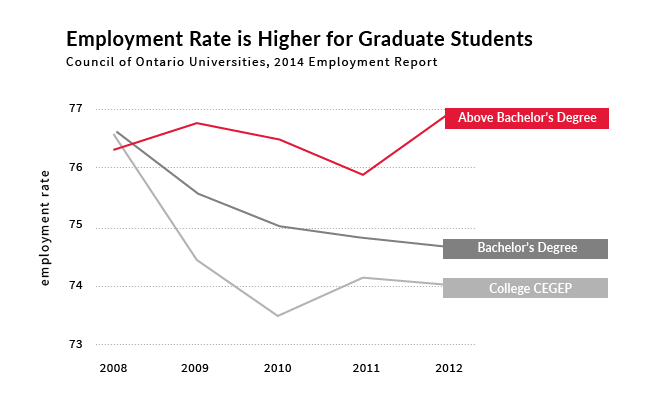 People with graduate degrees have the lowest level of unemployment, the most stable employment rate, and the best employment prospects of any group since the 2008 recession.
In addition to specialized knowledge, graduate school provides you with crucial skills that employers seek: oral and written communication, teamwork, public speaking, time and project management, collaboration, community engagement and outreach, critical thinking, qualitative and quantitative analysis, and so many more.
Graduate school opens the door to careers in every field. York's graduate students have gone on to become leading researchers and teachers, the head of the Canadian Space Agency, the host of a program on Discovery Channel, the CEO of Cineplex, the Chief Planner of the City of Toronto, the Deputy Fire Chief for the City of Vaughan, and the Chief Justice of Ontario.
As a graduate student at York, you have access to a wide variety of professional development workshops and seminars, on everything from teaching to entrepreneurship, taught by specialists from across campus and across the country. Please visit Graduate Professional Skills (GPS) for more information.
Academic Advantages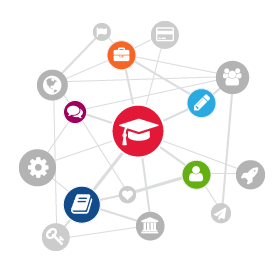 The chance to contribute to the advancement of knowledge and positive change as a researcher.
The opportunity to work with the experts in your field, and to become one yourself.
The potential to contribute to scholarly dialogue and community building through attending conferences and publishing.
The ability to focus closely on a research question that you're dying to answer.
The opportunity to obtain highly-regarded academic and professional credentials that will set you on the path to the career you want inside or outside of academia.